http://tanakatsu.co.uk/wp-content/uploads/2018/12/eye.jpg
800
800
TANAKATSU
http://www.tanakatsu.co.uk/wp-content/uploads/2017/04/logo-TNKT-1.png
TANAKATSU
2018-12-07 00:00:56
2018-12-07 06:03:20
The New Year's Holiday 2018-2019
A contemporary Japanese diner,
based on Katsu houses throughout Japan.
We strive to produce the finest
Katsu and TeriYaki by using our own family recipes.
Our aim is to spread our infectious love
for our Katsu and Teri over to you.
Simplicity, Honesty and Quality. Enjoy.
TANAKATSU team.
Please see OUR STORY for more details.
Sparkling Sake, Kyoto 5% / 150ml


Barley Liqueur, Kyoto 12% / 125ml


Chokara, Hyogo 14.5% / 220ml


Taru-Zake, Kyoto 15.5% / 300ml


Ginjou Nama, Hyogo 13.5% / 300ml


Tokubetu Junmai, Iwate 15.5% / 300ml

Smooth body and pleasant after-taste, pale lager 4% / 330ml


Belgium ale with yuzu twist with elegance 9% / 330ml


Wild yeast, Summerset apple, Champagne yeast 9% / 750ml

60%Grecanico 40%Inzolia, Sicilia, Italy


Sauvignon Blanc, Argentina


Gavi di Gavi, Piedmont, Italy

Cavernet Sauvignon, South Africa

Take Away Menu
We also accept takeaway order.
Call us,
place your order to collect them when you arrive.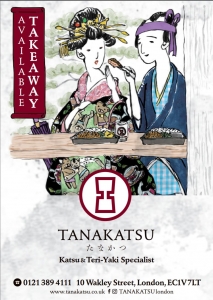 (takeaway menu : PDF)
保存
保存
保存
Also available delivery service from Deriveroo
There is TANAKATSU at a distance of 5 minutes on foot from the station of Angel.
Angel, London, England, United Kingdom
Departs from departure point A501 / Pentonville Road to A401 / St John Street
FOR RESERVATIONS
10 Wakley Street EC1V 7LT
MON to FRI

12:00-15:00,17:00-22:00
SAT

17:00-22:00
SUN

Closed
Tanakatsu
On an unprepossessing side street off City Road, this contemporary Japanese diner pulls in hordes of hungry workers from Old Street and Islington at lunchtimes. The sushi, katsu sets and teriyaki plates are well priced and generously portioned — and the house dressing, which has its own army of fans, is a great Monday spirit-lifter.
LOTI EATS | TANAKATSU
We began with some pretty perfect chicken gyoza, plus a straight to desert island disk status dish, the tuna tataki with a truffle ponzu sauce. For the main event we had the signature tonkatsu which comes with rice, shredded cabbage and some pickles on the side and we also tried the chicken katsu curry which came with so much curry sauce it was practically swimming away (a good thing – we like our sauce). Both were pretty spot on, very satisfying and utterly filling, just as it's supposed to be.
Tanakatsu has a short menu but does every dish very well and we'll defo be popping back for a regular fix of tonkatsu AND to get our hands on that lunchtime-only tonkatsu sandwich special too.
Deep-fried lunching
One place that's new to me (at least) was rammed every time I went or walked past through August: Tanakatsu, a katsu and teriyaki specialist to the south of Angel between City and Goswell Roads. The offer is simple. Basically, katsu chicken or pork with rice and salad, rice and curry sauce or rice, salad and teriyaki. All £12.5. No doubt there are better pieces of panko coated, deep-fried, premium iberico pork and wagyu beef pieces out there. But this is really good value and deeply satisfying. The bottomless cabbage salad and 'Mighty dressing'  is hugely addictive. Apparently their sushi's pretty good too, but hard to ignore the things coming out of the fryer.
10 Wakley Street, EC1V 7LT — tanakatsu.co.uk
Tanakatsu
A sleek Japanese restaurant in Angel, with concrete walls and lots of dark wood. The concise menu boasts katsu curry, katsudon (rice bowl), teriyaki and sushi. Ice cream can be had to finish and drinks include wine, prosecco, Champagne, sake, beer, juices and genmaicha (green tea).